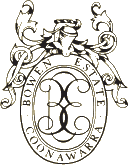 COONAWARRA

The grapes from our hand-pruned vines are hand picked and gently tipped directly into our press to eliminate any bruising and subsequent loss of quality. After pressing the juice is drained and cold settled before fermentation. The wine is fermented in French oak barriques and left on lees for 8 months before being stabilised prior to bottling.

The meticulously hand-pruned vines are machine harvested, crushed, fermented on skins, pressed and then left to settle. Approximately one third of the wine is barrel fermented in new wood each year. After racking (removing the wine from the now settled solids 'lees') and being monitored through malolactic fermentation, the wine is put into American oak barriques (225 litres) for maturation for about 22 months. The Shiraz wine, made from 100% Shiraz grapes, is then removed from the barrels, blended, bottled and packaged.

In the vineyard the Cabernet Sauvignon vines are pruned by hand, again using the arched cane method as for Shiraz. The grapes are machine harvested. This wine, made from 100% Cabernet Sauvignon grapes, is handled exactly the same way as the Shiraz except that it is barrel aged in French and Russian oak barriques instead of American oak.