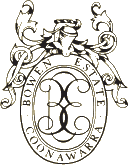 COONAWARRA
The 2016 growing season was very dry, beginning with below average Winter rains. A warm October advanced the season through to harvest by two weeks. Good flower set in November resulted in slightly above average yields and the mild days and cool nights in February and March extended the ripening period producing well balanced fruit across all varieties. Despite the early season the fruit developed full palate depth, lovely tannins, complex fruit characters and excellent colour. Another very good vintage from Bowen Estate.
Wine:
This wine exhibits a lovely rich textured palate with a fine acid backbone to round out the mouth feel. Lovely melon and ripe peach characters add to the attractiveness of this wine. We moved to making this refined style over a decade ago. During this time, we also redeveloped the trellis system in our small one acre Chardonnay vineyard. It now mirrors our red varietal vineyards with arch cane trellising to complement the hand pruning. This has enhanced the quality and balance of the fruit that our vines produce.
Drink:
Drink now or over the next 2 years.
Food:
Salads, seafood, light curries and Asian meals.
Download tasting notes.
---
The growing season started with great early winter rains. Following an even budburst flowering continued with a warm Spring and little wind; great conditions for berry set. Summer weather was ideal for verasion through to ripening with warm days and cool nights excellent for flavour ripeness and acid balance. Crop levels were moderate with small berry size.
Wine:
A fabulous run of vintages in Coonawarra including the 2015. This wine gleams brilliant dark purple in the glass as an example of an exceptional vintage. Our Ampelon heritage clone vineyards are now truly shining. Richness of classic Shiraz characters are complimented by fresh elegant American oak flavour on the nose. The rich fruit characters are again evident on the palate and leave your mouth singing with bright seductive fruit flavours well balanced with fine long classic coonawarra tannins. This is a beautiful wine to drink now, but will evolve into a little beauty with age.
Drink:
Over the next 5-7 years.
Food:
Casseroles, tagines, white meat and soft cheeses.
Download tasting notes.
Wine:
The 2015 Cabernet Sauvignon is a wonderful follow up to our highly lauded 2014 40th vintage release. Aromas of dark berry fruits leap out of the glass. On the palate, the fine fruit tannin structure enhances the restrained elegant blackberry fruit characters promised by the nose. Well woven French oak wood grain characteristics further embrace the classic Cabernet palate. A wonderful example of a

classic Coonawarra

Cabernet Sauvignon.
Drink:
Over the next 5-7 years.
Food:
Red meat, pasta dishes, blue and vintage cheeses.
Download tasting notes.